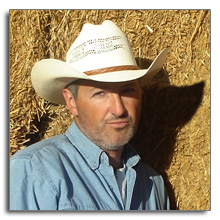 When I decided to leave Bologna, my home town in Italy, I had already had some varied and interesting experiences with horses, horsemen, trainers and even cowboys, but I was looking for something more. I didn't know what it was exactly; I can only say that all I had seen and tried up until that moment wasn't enough to define and, in some way, to complete the "concept of horse" the way I felt it.
Many questions remained unsatisfied and many others were still finding their own shape to be asked: regarding how to approach a colt or a starting horse, or how to behave with a difficult one, just to make some examples.
Well, it was only by chance that I met Randy Leighton a few years ago: a friend I knew from Italy introduced me to him. At that time he was working in a ranch around Gustine, Ca, and he kindly allowed me to stay and watch and help as I could, with my scant skills.
I recall the first day there and the first horse I rode, a colt started not long before: he just told me "remember, the horse wants to follow you, he does everything to stay with you; if something happen it's your fault because he knows and you don't. When I see that you feel the horse I can tell you more." And then silence - for months - while I was being bucked off all over the place.
I would realize later how essential and enlightening were those words: nobody tells you "the horse wants to stay with you"; usually it's more about making him do something rather than just waiting for him, staying concentrated on the effectiveness of our communication.
More would come from Randy but not as much as I had expected. His knowledge about these extraordinary animals is so deep that he can make it all so simple, and his answers to my questions were always simple, and lay in the relationship between horse and human.
Through Randy's profound, yet simple messages I realized that my unanswered questions derived from the common habit of seeking specific solutions to specific problems, or a fragmented "method learning" approach. Randy's approach was different; my questions have been answered nonetheless, but in a completely unexpected way: through a new and natural vision that transcends boundaries between living beings.
by Edoardo Pascucci
lucky partner of Randy Leighton in the "Running Horse Ranch"
[back]